Erstklassiges Recording von Audio und Video
Ein Studio für Aufnahmen von Musik, Sprache und Bewegtbild – analog und digital
AUDIO
R.A.u.M.103  bietet genug Raum für sämtliche Genres: Rock- , Pop- , Klassik- , Jazz- , Chor- , Orchester- oder Sprecher- aufnahmen wie auch Programmierung elektronischer Beats. Mit einer analogen und einer digitalen SSL-Regie, zwei Gesangs- oder Sprecherkabinen und dem großen Aufnahmesaal mit einer Deckenhöhe von bis zu sechs Metern und einem Steinway & Sons Konzertflügel werden wir jedem Anforderungsprofil gerecht.
Jedes Projekt wird von einem kompetenten Toningenieur und bei Bedarf auch von einem erfahrenen Produzenten begleitet. Exzellentes Equipment und qualifiziertes Personal verhelfen jedem Projekt zur gewünschten Wertigkeit.
Bei Bedarf bringen wir unsere mobile Ausrüstung einfach mit – an fast jeden Ort.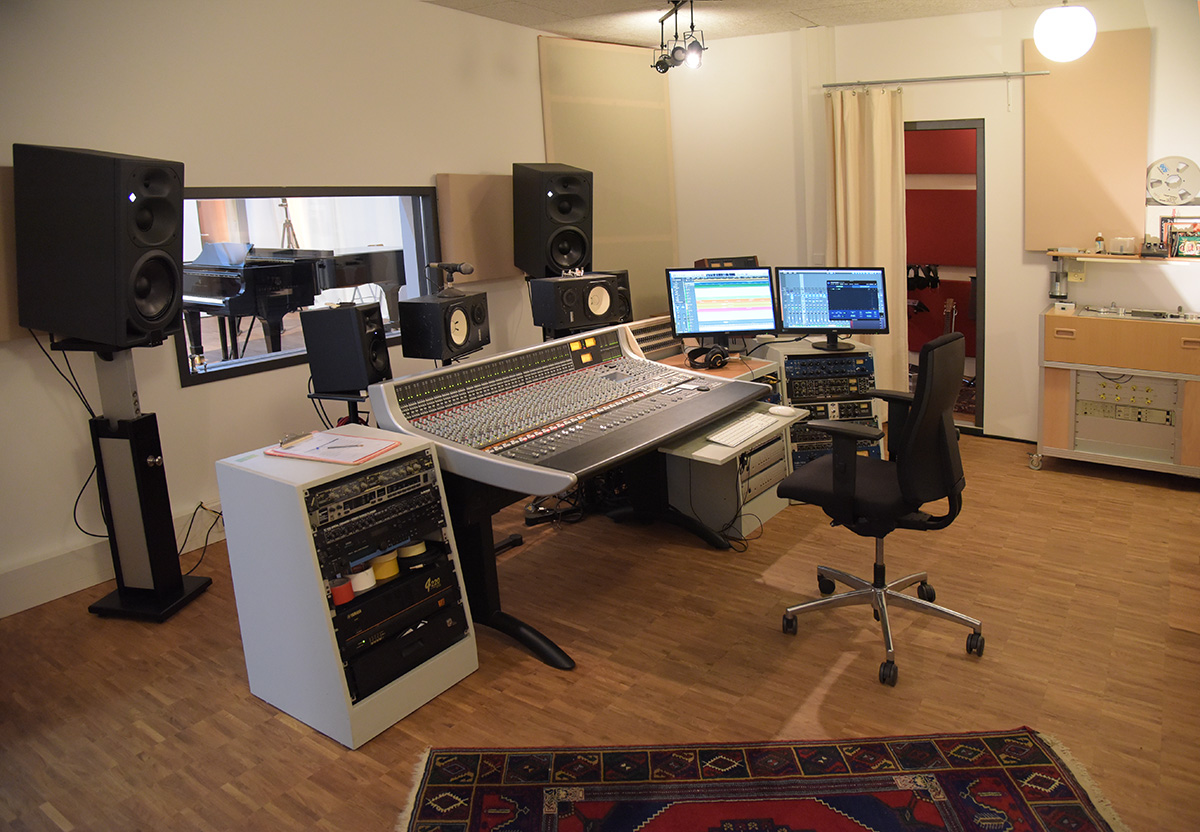 ANALOG & DIGITAL
Wir verbinden beide Welten: State of the art Digitaltechnik und eine erlesene Sammlung von analogem Vintage-Equipment können in den Workflows miteinander kombiniert werden.
Unsere Regien sind ausgestattet mit einem SSL Nucleus 2 Mischpult und einem SSL AWS 948 Mischpult. Wir verfügen über alle gängigen DAWs (Logic, ProTools, Cubase, Ableton, etc.) und Libraries. Unsere high-end Mikrofonsammlung (u.a. Neumann, Sennheiser, Schoeps, AKG, Shure) sorgt für erstklassige Aufnahmequalität.
Das Herzstück des Studios ist der ca. 100qm große Aufnahmesaal, dessen sechs Meter hohe Decke eine ausgezeichnete Raumakustik begünstigt. Ein weiteres Highlight des Saals ist der Steinway & Sons-Konzertflügel (D-274). Neben Chören und Bigbands profitieren auch Pianisten von dem herausragenden Raumklang.
VIDEO
Nach 20 Jahren Erfahrung in der Audioproduktion, von denen wir zehn Jahre erfolgreich Projekte für Film und Fernsehen realisiert haben, war die logische Konsequenz unser Leistungsportfolio um audiovisuelle Medienproduktion zu erweitern.
Mit unserem AVID-Schnittplatz, Greenscreen, denHD-Kameras und Lichttraversen im Aufnahmesaal arbeiten wir interdisziplinär.